The Newest Lizzie and Darcy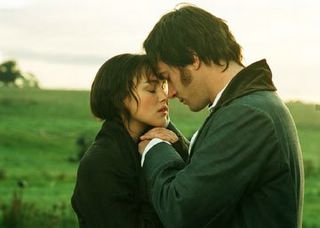 The
trailer
is now available for the new Pride & Prejudice movie coming September 23rd. After watching it, I'm just not sure how I feel about it. It's so different from my beloved A&E DVD but it is Jane so I'm sure I'll muddle through somehow.
Thoughts on the Trailer:
Could the Bennets not afford a brush for poor Lizzie?
I thought the newest Mr. Collins looked kinda cute.
Lady Catherine De Bourgh scares me.
Why, why, why are Lizzie and Darcy about to kiss when she rejects his proposal?!
"From the Producers of Bridget Jones' Diary and Love Actually" doesn't really make me want to like this movie.
That is NOT my Mr. Darcy!
Lizzie, dear, you need a sandwich.